Roofing
New Jersey Residential and Commercial Roofing Specialist
We specialize in Residential and Commerical Roofing, Shed Roofing, Garage Roofing; Roof Repair, Roof Replacement, and Roof Installation in New Jersey. American Roofing and Chimney is a New Jersey Licensed and Insured, Family Owned and Operated Roofing Company proudly servicing North Jersey for over 35 years. Our professional Roofers are certified and have the professional experience to repair, replace, and install Shingle Roofs, Flat Roofs, Metal Roofs, and Metal Roofs. Our Roofing Services include New Roof Installation, Roof Restoration, Flat Roof Repair, Roof Vent Pipe Repair, Roof Shingle Replacement, and more. Call Now 1-877-228-1042 for a Free Estimate and Emergency Roof Repair NJ services.
Skylight Repair NJ
When it comes to Skylights you can expect professional quality work from us at American Roofing and Chimney. We provide Residential and Commercial New Jersey Skylight Repair, Skylight Replacement, Skylight Removal, and Skylight Installation at affordable prices.
Call us now at 1-877-228-1042 to schedule a Free Estimate or for 24 Hour Emergency Skylight Repair and Skylight Leak Repair in New Jersey.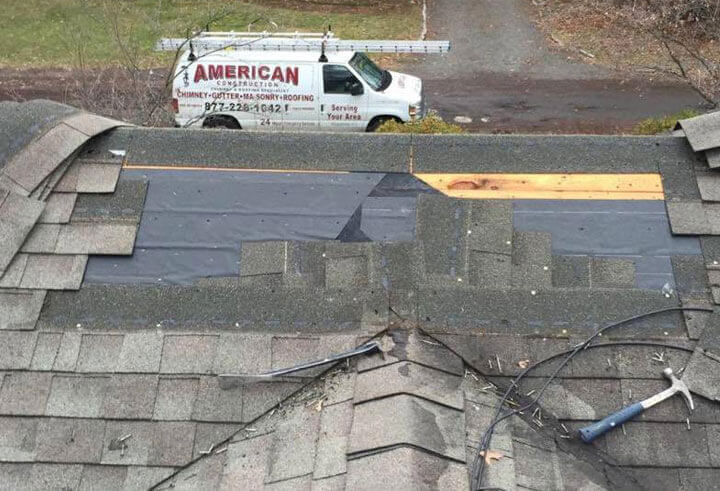 Roof Leak Repair NJ
Do you have a Roof Leak? Call your local Roof Leak Detection and Roof Leak Repair NJ specialist American Roofing and Chimney at 1-877-228-1042. We provide professional and affordable Roof Leak Detection and Roof Leak Repair services on residential and commercial Roofs. Our Roof Leak Repair services include Roof Flashing Repair, Roof Wood Rot Repair, Roof Caulking, Roof Shingle Replacement, and Roof Plywood Repair. Call now for a Free Estimate, Emergency Roof Leak Repair, and Roof Tarp Installation in New Jersey.